Apple has officially shuttered its Texture digital magazine service.
The company acquired Texture last year to provide the groundwork for its Apple News+ subscription service, and now the company has shuttered the service and is pushing users to sign up for an Apple News+ trial, which offers the same features in all but name.
Plans to close the Texture app were first announced back in March, with Apple choosing March 28th as a closure date for the subscription service. However, the app lasted an extra two months, and today Texture is no more, with Apple telling users it was Goodbye from Texture.
"Texture has ended. But don't worry, you can continue to read your favorite magazines, plus so much more, with Apple News+. Apple News+ gives you access to hundreds of magazines, with titles in every category, plus The Wall Street Journal and LA Times. And Family Sharing gives access to up to 6 family members," Apple said on the Texture website.
Apple News+ launched earlier in the year on iOS and macOS devices, and offers 100s of magazines and newspapers for just $9.99 per month.
What's most interesting to note, however, is that users on Windows can no longer access Apple's subscription service, as Apple killed off the Windows version of the Texture app last year, whilst on Android, Apple is yet to release an Apple News+ app, despite offering the Texture service on Android devices.
It was reported that Apple paid more than $485 million for the Texture app and its rights, and whilst that figure may seem excessive, it allowed Apple entry into the market without having to do the legwork – it already had connections with major publishers that it could transfer over to the Apple News+ ecosystem, with many of the world's biggest brands part of the service.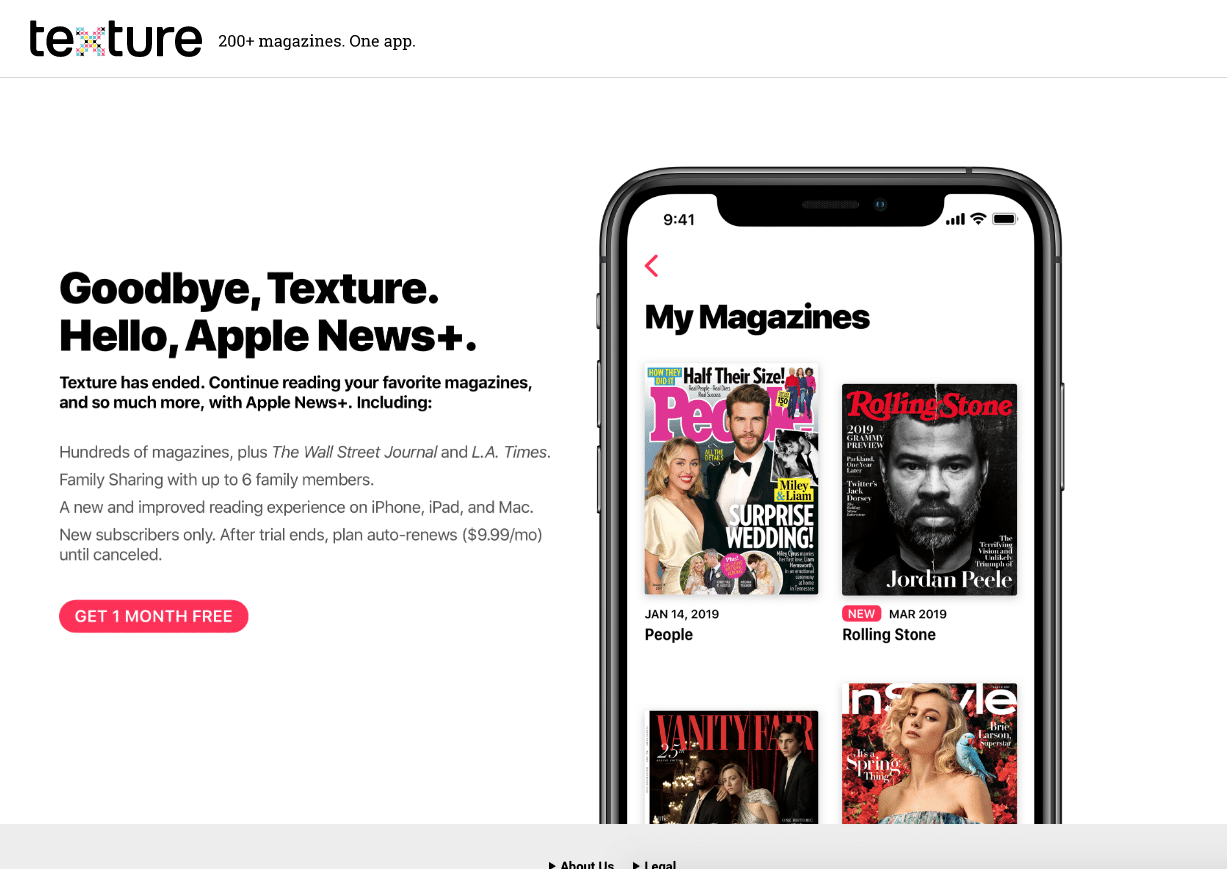 However, Apple News+ has had a rough start, with both consumers and publishers criticizing the service.
According to Digiday, Apple "refrained from actually providing article or content templates to publishers. While it has worked directly with publishers that decided to build their own templates for Apple News+, it has largely outsourced that the problem of article templates to several vendors, each of which leaves something to be desired," leaving many publishers frustrated and contemplating pulling out of the service just months after launch.
Users have also complained about the Apple News+ user interface, particularly on Mac, which does not support tabs and pushes non-News+ subscribers towards a subscription.
However, Apple's Eddy Cue has responded to comments, promising that the company has "hundreds" of people working on Apple News+ to improve the service.
"We've heard a lot of great feedback from the hundreds of publishers available in Apple News+. The latest updates to Apple News+ aim to best showcase their incredible journalism and put the most trusted news sources at readers' fingertips," said Eddy Cue in an interview.
"Apple News+ customers are very engaged readers, with most visiting the News app daily. Hundreds of people at Apple, across editorial, engineering, marketing, and design teams, are working to make Apple News+ the best experience for people who love reading their favorite titles and discovering new stories."
We'll likely get our first update on Apple News+ at this year's Worldwide Developers Conference, which takes place next week. Keep it AppleMagazine for the latest as we get it.