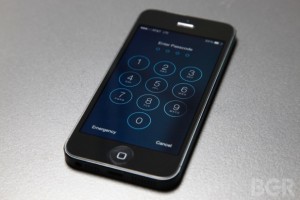 Several days ago, Apple released iOS 7.0.1, a software update exclusive to the iPhone 5s and 5c.  The update fixed a minor issue related to the Touch ID sensor on the 5s.  Now a new update, iOS 7.0.2,  is available to address another bug, one that allows anyone "with physical access to the phone to bypass the lock screen without punching in the code and make calls, see recently used apps and view or share photos."  Users of iOS 7 may want to download this particular update as soon as they can: the minor flaw in the new software could have major consequences.  If a hacker were to use a certain sequence of key presses, he or she would then be able to access the user's data. The user's "photos, email, Twitter, Facebook and Twitter accounts" would be at the mercy of the hacker, who "could edit or use" the data "and also send text messages."
The update appeared Thursday night, a little less than a week after Apple discovered the bug.  iOS 7.0.2 was released relatively quickly; Apple usually takes two weeks to patch up security holes.  The download is free and comes with the extra perk of bringing back the Greek keyboard option.  You can get the update either wirelessly or via iTunes.
If you choose to download wirelessly, here's something to think about: within just one week of iOS 7's release, over half of "North-American iOS-based Web traffic was generated by iOS 7 users," far more than the Web traffic due to iOS 6's release.  Downloading wirelessly, though it may be more convenient, might not be as speedy or as stable as downloading from iTunes.  Either way, this update is an important one to get.
Photo Credit: BGR