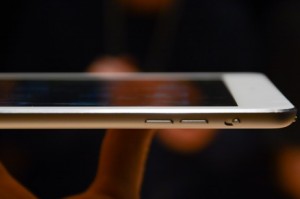 Last week Apple unveiled its newest iPad model, the iPad Air.  As befits the name, the fifth-generation tablet is thinner, lighter, and faster than its predecessors. How much thinner, lighter, and faster is the new tablet?  Sources say that it's "twenty percent thinner and twenty-eight percent lighter than the current fourth-generation iPad" and "seventy-two times faster than the original iPad." 
The A7 processing chip — the same one used for the iPhone 5s — is what makes the Air so much faster than the fourth-generation model.  It still has the 9.7-inch screen, but a "revamped iPad Mini" is expected later in November for those looking into buying a smaller tablet.  The new Mini will be available in silver and space gray and will have the speedier processer seen in the Air as well as the Retina display featured in the larger iPads.
With all the upgraded iPads rolling out, iPad owners may want to sell their old iPads while their value isn't too low.  There are plenty of websites and trade-in programs to choose from.  You can even use Apple's Reuse and Recycling program which can be accessed online or in a retail store.  One of the perks of trading in your device through Apple is that "the company will give you a gift card that can be used toward a purchase from one of the company's retail stores or its website." 
GameStop is another great place to trade in your iPad.  This retailer offers store credit and cash.  For those who want in-store customer service and "want the most value possible for [their] iPad," this is the place to go.
Finally, there's Glyde.com, which is a trade-in website.  You'll be asked about the condition of your device; then you'll get a price quote for your tablet.  You can "list it at the suggested price or set [your] own price."  Other Glyde.com users can then purchase your iPad.  Though it's not a guarantee that you'll sell your tablet, "the website says Apple products can sell within a matter of hours."  Once the device is sold, the payment goes to your website account, and the money can be transferred electronically to your personal bank account.
So there you have it: in with the new and out with the old!
Photo credit to PC Pro