Tech News
Leaked images of 'iPhone XC' prototypes
Following the news that Apple's 'Gather round' event will take place on September 12th, images of the purported 'prototypes' for the new iPhone XC have been leaked.
The pictures, shared by Ben Geskin on Twitter, reveal that the new 6.1 inch LCD iPhone will be available in four colours: red, white, space gray and rose gold. The black glass design of the current iPhones will seemingly feature again on the new models.
In contrast to the stainless steel edges of the iPhone X, these images show the lower-priced LCD iPhones with aluminium edges, and also with a single lens camera setup – another cost-effective measure implemented by Apple.
Another image reveals that the device will have a dual-SIM card slot. However, as Bloomsburg suggested last month, it is likely that only certain regions will market the dual-SIM slots versions.
There was another leak posted to Weibo yesterday morning, which seemingly shows a slide from an internal presentation at China Mobile, one of the largest iPhone carriers worldwide. This slide reveals that the 6.1 inch model will be named 'iPhone XC' and the new, more expensive 6.5 inch phone will be named 'iPhone XS Plus'.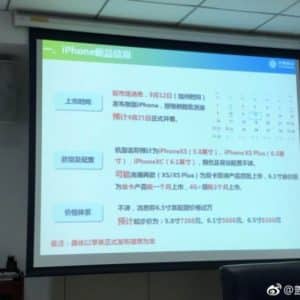 Although these images have been treated with scepticism, many similar leaks have been proved accurate in the past. Indeed, although Geskin originally referred to the models presented in his images as 'dummy units', he reshared them yesterday, referring to them as the 'real deal'.
Keep your eyes peeled for more information and leaks as the 'Gather round' event draws ever closer.