Apple is issuing software locks in iOS that blocks features such as Battery Health when a user replaces their iPhone battery with one not installed by Apple.
Should you replace your own battery or send it to a third-party to be replaced (one that hasn't been authorized by Apple), a new warning message will appear in the Settings app: "Important Battery Message: Unable to verify this iPhone has a genuine Apple battery. Health information not available for this battery."
What's perhaps most interesting is that this warning will appear whether you install an aftermarket battery or an official Apple battery.
The only way to prevent the warning message from appearing is to alow Apple or an Apple-authorized service provider to swap out the battery for a genuine replacement.
As reported by iFixIt, a Texas Instruments microcontroller on the battery serves as an authentication feature that determines whether a battery is genuine and replaced by Apple or a third-party.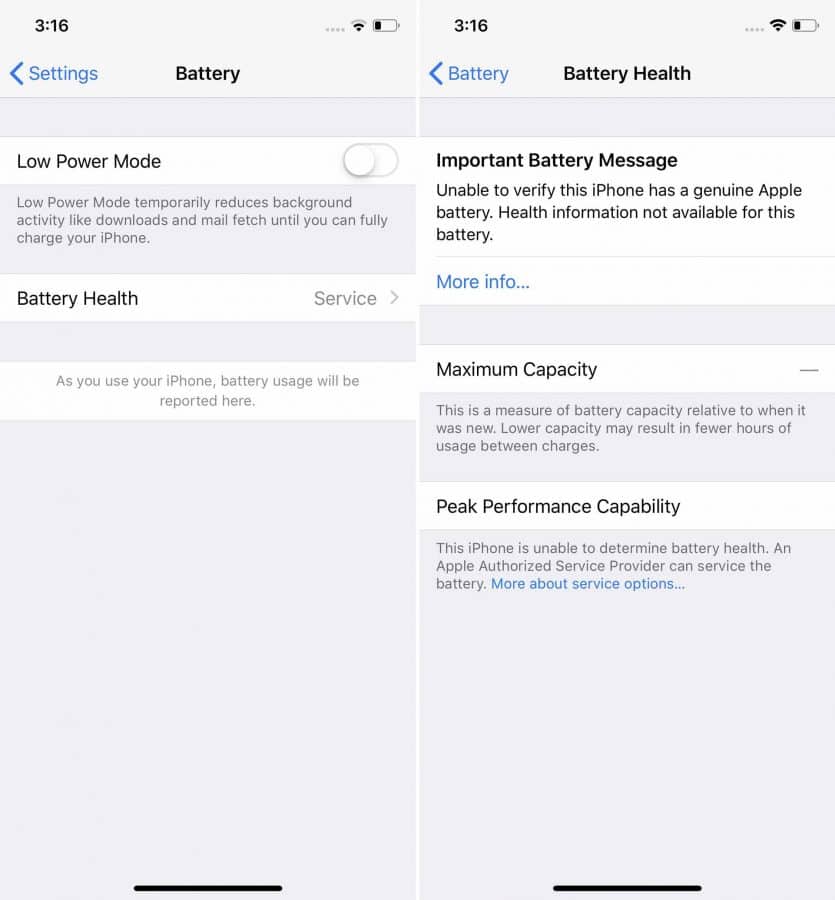 Apple and its third-party authorized resellers are the only ones who can clear the Service message.
"Put simply, Apple is locking batteries to their iPhones at the factory, so whenever you replace the battery yourself—even if you're using a genuine Apple battery from another iPhone—it will still give you the "Service" message," said iFixIt in their report.
"The only way around this is—you guessed it—paying Apple money to replace your iPhone battery for you. Presumably, their secretive diagnostic software can flip the magic bit that resets this "Service" indicator. But Apple refuses to make this software available to anyone but themselves and Apple Authorized Service Providers."
The new software lock only affects the iPhone XR, iPhone XS, and iPhone XS Max and works on iOS 12 and iOS 13.
Apple will likely argue that this new lock is for safety reasons, but many will criticize the company for reducing the repair options and forcing consumers to replace batteries at Apple Retail Stores rather than working with a third-party company.
Do you care about a battery warning? Does this change encourage you to use only Apple-approved resellers when replacing a battery? Let us know on Twitter using @AppleMagazine and check back soon for more news.