It appears Apple is planning a week of new product releases, yesterday announcing a refreshed iMac range that offers two-times the performance of previous generation models. That follows on from the refreshed iPad Air and mini, released on Monday.
For the first time, the iMac now comes with up to 8-core Intel 9th-generation processors and Vega graphics options, which offers "dramatic increases in both compute and graphics performance", according to the Apple press release.
Whether you're an everyday iMac user or you rely on Apple's desktop PC for video editing, streaming, and designing, you should notice that the machine is much faster for everyday tasks, and with a Retina display, all-in-one design, quiet operation, fast storage and memory, the iMac continues to stand as the world's best desktop computer.
Speaking of the new iMac range, Tom Boger, Apple's senior director of Mac Product Marketing, said: "Customers are going to love the huge boost in iMac performance. With up to 8-core processors and powerful Vega graphics, the iMac lineup is stronger than ever. With its stunning Retina display, amazing design, twice the performance, and macOS Mojave that our customers love, iMac is by far the best desktop in the world."
More Power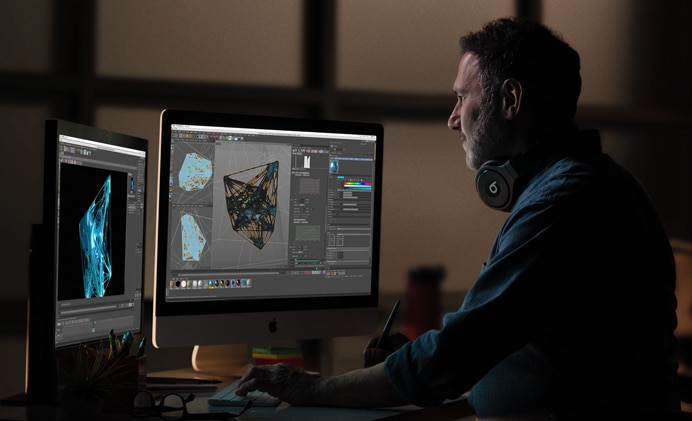 The 21.5-inch iMac now includes an 8th-generation quad-core, and 6-core processors, which provide up to 60 percent faster performance than previous models.
The 27-inch iMac, on the other hand, includes up to 9th-generation 6-core and 8-core processors, delivering 2.4x performance compared with previous 27-inch iMac models.
In addition, both sized iMacs now come with Radeon Pro Vega graphics, delivering "up to 80 percent faster graphics performance," making iMacs perfect for editing video and designing games and 3D content.
The new 21.5-inch iMac with Retina 4K display is priced from $1,299, whilst the 27-inch iMac starts at $1,799. You can order your new iMac from Apple.com and the Apple Store app, whilst the desktop computers will be available in-store later in the week.
The non-Retina display iMac is still available for $1,099 but does not include the new iMac performance upgrades, so it's worth paying an extra $200 for a better screen and significantly more power, particularly if you're a pro user.
Apple is widely expected to drop new AirPods, the AirPower Mat, and a refreshed iPod Touch range this week. Keep it AppleMagazine.com for the latest news when we get it.